Hi all,
Last Saturday 7 Jan 2012 saya berkesempatan menikmati burung-burung dibawah jagaan KL Bird Park. World Largest Free Flight Walk In Aviary!! First time pergi! Even saya stayed in KL for 25 years but saya tidak pernah menjejakkan kaki ke KL Bird Park. So, big thanks to my mom boss because she's arrange birthday party for baby Atheera. While nak tunggu pihak KL Bird Park setup makanan di Hornbill Restaurant & Cafe tu, mereka bawa kami semua tour KL Bird Park. Hehehe. Best juga bawa anak-anak kecil tengok burung. Bukan sahaja burung kecil, yang besar pun ada. Nasib baik saya suka burung, so tidak takut sangat. 🙂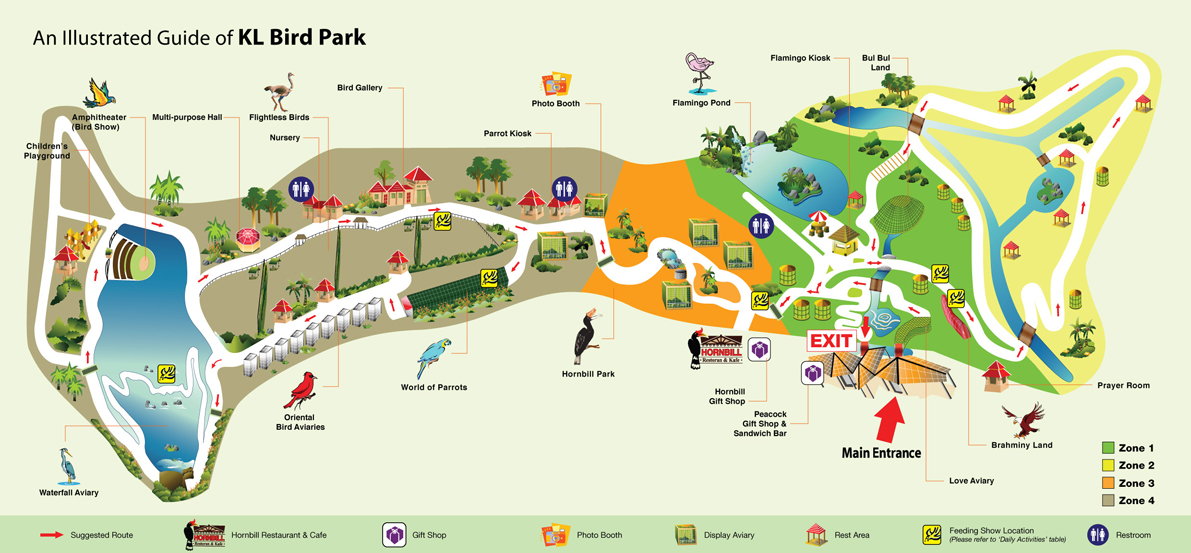 inside KL Bird Park Map

Bahan Promosi dari KL Bird Park

Saiful Naim berada di souvenir shop bersama anak saudara ku Muhammad Miqail

Inilah encik Tour Guide group kami. Mr Jeremy. Serba berpengetahuan. 🙂

Dikelilingi oleh anak-anak kecil yang ingin mengetahui sejenis burung yang bergelar Ostrich aka Burung Unta.

Burung Unta ini sangat la baik, sekali dia masuk kepala kat dalam pagar ni, takut juga. Tu yang pejam mata tangkap gambar. hehe.

Ada gallery dan nursery. Di dalam nursery terdapat tempat penetasan telur ayam, ada tempat beri makan ayam dan itik. Disini juga ada burung-burung yang bewarna warni yang masih dalam jagaan. Burung yang dikeraskan seperti MUMMY pun ada. Seperti di dalam muzium. 🙂

Bergambar dengan burung-burung. Best sangat!

Selesai Tour, kami semua ke Hornbill Cafe untuk Sambutan Hari Kelahiran adik Atheera. Pinjam Atheera dari mak dia masa untuk bergambar. 🙂

Happy Birthday sayang! Semoga menjadi anak yang solehah dan bijak!

Big Bill pun ada. So cute! 🙂
How to go there??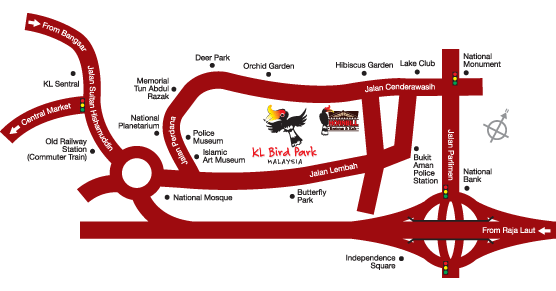 By public transport
Rapid KL Bus No. B115 from Kotaraya to Jalan Parlimen
KL Hop-On-Hop-Off Double Decker Tour Bus Service, disembark at Station No. 14 in front of KL Bird Park Main Entrance. Buses available at every 30 to 45 minutes interval.
By KTM Commuter Train, disembark at the KTM Old Railway Kuala Lumpur Station located near the National Mosque
Public taxis – Advisable to look for taxis that uses the coupon or meter system.
If you are driving
GPS address: Bird Park
GPS coordinates: N3 08.581 E101 41.294
From Jalan Bangsar, head straight towards KTM Railway Station round-a-bout, turn left towards Masjid Negara
From Jalan Mahameru, turn left into Jalan Parlimen. At traffic light, turn right towards the Kuala Lumpur Lake Gardens.
KL Bird Park also offered few package for all. They have
1. Birthday Party @ KL Bird Park
2. School Packages
3. Seminar Packages
4. Family Day
5. Pre-Wedding Photography Package
6. Membership Program KL Bird Ranger
For bookings and enquiries, please contact:
Marketing & Promotion Department
Tel : 03 – 2272 1010
Fax : 03 – 2273 5428
Email : info@klbirdpark.com / vin@klbirdpark.com
Contact Person : Ms. Vin
Untuk lebih banyak gambar menarik sila lawati FB Rabiatul Adawiyah | LifeStyle Blogger. Manakala untuk lebih info about KL Bird Park Malaysia, please visits http://klbirdpark.com
xoxo